Dawes-Gates Ancestral Lines
---
Note from transcriber:
What follows is taken from "Dawes-Gates Ancestral Lines" Volume 2 pp. 642-656 "Gates and Allied Families" by Mary Walton Ferris, copyright 1931 by Rufus C Dawes. As Clive and Era Jane (in another work transcribed at this site) had permission from the copyright holder to use this work for a source, I believe that a simple transcription of the original chapter referring to the Pettyjohn family lines is not unreasonable. The superscripted numbers are either generation markers associated with people, or a reference number linked to the end of the document.
---
page 643
---
Pettyjohn*
The earliest known man of the name in America is JAMESI PETTYJOHN, of Hungar's Parish †, Northampton County, Virginia [on the peninsula], whom we will treat as our emigrant ancestor, giving the reason therefor but also making the definate statement that the fact is not directly proved. The early records of the lacality are very meager but scattering items have been found, among which is
"Issabel petty John daughter of JAS. & ISSABEL PETTYJOHN [baptized] May16th, 1660."1
The belief that JAMESI is our ancestor is arrived at by indirection for (a) JOHN2 PETTYJOHN of Sussex County, Delaware [see map on p. 645], in his will of October 26, 1733, names among others sons JOHN3, WILLIAM3 and RICHARD3 and [it is printed]2 "daughter Isabel Pettyjohn," but a personal examination of that document3b makes this read "grand daughter Isabel," daughter of deceased son Thomas3. This shows, in any event, the recurrence of the unusual name "Isabel" in the third generation, if not in the second, and certainly also in the fourth by mention of a daughter of Richard3 (John2), as well as a repitition of "James" among both the children and the grand-

---
* In the later generations the name has been almost univerally spelled "Pettijohn".
† Seven miles north of Eastville, at the head of Hungar's Creek, stands Hungar's Episcopal Church. On the north side of the creek and near by is the is the old village of Bridgetown [see map on p. 645]. The parish was created in the fall of 1635. It was divided into two in 1642 with King's Creek as a boundary, the southern portion retaining the original name. In 1691 they petitioned to be joined together again since both were small in extent and in tithables and were unable to erect suitable church buildings or to maintain separate rectors. This request was granted, with the name Hungar's Parish continuing. The present church building is said to have been erected13, 14a about 1690-5. The plate presented to old Hungar's Church by Gov. Francis Nicholson [and so inscribed] is now in use in Christ's Church, Eastville, and the heavy silver communion service presented to Hungar's Church in 1741 by Maj John Curtis, of Williamsburg and Arlington [whose home was near the church], is also i use at Eastville.14a The Major promised to give a hogshead tobacco or its equivalent and 30 gallons of cider to the man who built for him a pew in that church.

It is interesting to remember that the Rev. David Mossom, who served at the Church of St. Michael's in Marblehead, Massachusetts, during the membership there os our WILLIAM2 BARTLETT, subsequently removed to Virginia, to St. Peter's Church, New Kent County, where he later performed the marriage ceremony14a between Gen. Washington and Mrs. Custis.
---
page 644
---

children of JOHN2. This theory is strengthened by (b) a certain deposition made at Lewes, Delaware, on May 16, 1759, by "John Pettyjohn3, sen." [son of deceased JOHN2], of Sussex County, "aged 70 years or thereabouts," relative to a boundary line between that county and Somerset [now Worcester] County, Maryland. In this document he states:
" . . . that he was born in the colony of Virginia but brought into Sussex County by his parents when about two years of age and that he had lived in the said County of Sussex ever since, to wit at Broadkill Hundred in the said County for upwards of Fourty years of the same time. . ."4. This testator, whose birth occured in Virginia about 1689, was John3, son of John2, whose will is quoted above, and undoubtedly a grandson of JAMESI.
JAMESI PETTYJOHN was an inconspicuous member of the community, of whom no records are found extant other than the baptism of his daughter Isabel2. It was common practice14a for an immigrant to Virginia to bring at his own expense21 a number of other persons in order to secure for himself their head rights of fifty acres each [and perhaps other prerequisites]. Frequently, therefore, when a man would appear, by the ship list, to have a large number of servants, some of them might in reality be friends or acquaintances, although they might also work for him for a time. The lack of prominence of JAMESI PETTYJOHN makes it seem probable that he came over in some such way. In 1683 one group of fifty-five persons who came over14a cost only £70 outlay for the passage. In the majority of, and perhaps all, cases passengers provided their own food. Except for raising supplies for home consumption, the only crop attempted in the early days was tobacco; it was the money of the colony and was supposed to represent about one penny per pound.21
The management of affairs in Virginia differed greatly from that in New England. In Old Virginia there were no town meetings. The distance between plantations cooperated with the distinction between the classes to prevent the growth of such an institution. The English parish, with its churchwardens, vestry and clerk, was reproduced in Virginia under the same name, though with some variations. The vestry exercised the chief authority in the parish and was composed of twelve men. This was representative government. At first the twelve vestrymen were elected by the people of the parish and thus resembled the selectmen of New England, but in 1662 "they obtained the power of filling vacancies in their own number," so that they became what is called a "close corporation" and the people had nothing to

---
page 645
---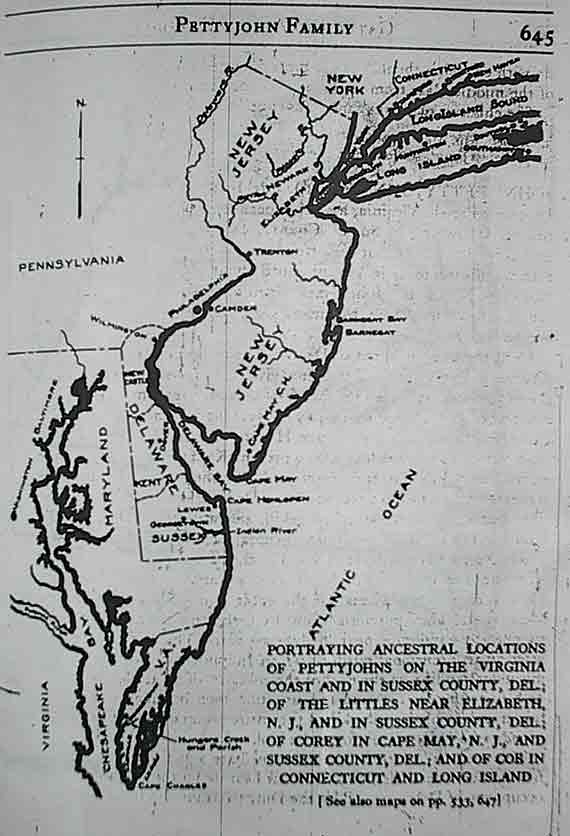 ---
page 646
---

do with chosing them.21 These facts operated to prevent the names of men of the middle class from appearing on the records.
The children of JAMESI and "ISSABEL" (____) PETTYJOHN were1
I. Isabel2, bap. May 16, 1660.
II. probably JOHN2, see following.
JOHN2 PETTYJOHN (JamesI) was born probably about 1658-62 in Hungar's Parish, Virginia, and died between October 26,1733, and November 15, following,2 in Sussex County, Delaware. He married in Virginia, probably about 1685, but hs wife's name is thus far unknown. He evidently retained his residence in Virginia until about 1691, after the birth of at least two sons, James3 and John3 [mentioned above, born about 1689], and then removed with his family to Sussex County. Delaware,4 where he spent the remainder of his life.
Until the establishment of Delaware as a state its territory was called the "Three Lower Counties" of Pennsylvania and sent representatives to the Assembly of that state. The story of its early settlement is full of interest and tragedy and would well repay study. One instance13a deals with the very early emigration of a group from Holland, headed by David De Vries, to a tract somewhat equivalent to the present Kent and Sussex counties of Delaware. They landed in April, 1631, and gave the name of "Hoornkill" to what was later called Lewes Creek, because De Vries' Holland home was Hoorn. This name in time became Whorekill, and was later changed to Deale, and finally to Lewes, and it was in this general locality that the Pettijohn families lived for a number of generations. The thirty men of the De Vries expedition were charmed with the beauty of the place and named it "Zwaanendael" or "Valley of Swans" because of the great number of those beautiful birds found there. They purchased land from the Indians and built a cabin, surrounded by a palisade, near the landing-place. There occured shortly thereafter an unintentional misdeed by an Indian chief, followed by a complete misunderstanding on the part of the colonists of an attempted compensation on his part for his act, and the situation soon became so strained that certain members of the tribe killed the entire group of whites, as they later told friends who came to reinforce the Hollanders.15a
This tragedy in itself had no immediate significance for the Pettyjohn family, but it later had an important bearing on their future, for this actual occupancy of Delaware soil by the Dutch was vital in the subsequent history

---
page 647
---
---
page 648
---

of the state, as it determined that the royal patent, given the following year to Lord Baltimore for lands inhabited by savages, could not cover the site of this prior settlement; consequently its inclusion in the state of Maryland was eventually prevented, though nearly one hundred thirty years passed before the state boundaries were finally agreed upon in 1760, and it was eight years later that the consequent Mason and Dixon line was entirely completed.
The reason 26 here, as in New Jersey [see White, p. 809], for the conflicting claims was the frequent changes in ownership, from the Indians to the Dutch, to the Swedes, to the Dutch again, to the Duke of York, and finally to William Penn, with a continuous overlying claim by Lord Baltimore, proprieter of Maryland. There is evidence that, even as the White and Little families suffered in New Jersey, so also, though perhaps in lesser degree, were the Pettyjohns harassed and imposed upon in Delaware by Baltimore and his agents.
As early as July 7, 1665, land grants were being made along the Delaware coast, and on that date Alexander Molestine* received land15a "lying upon Whorekill neare unto the mouth of the kill." By about 1690 a number of families, estimated at from six to ten, including that of JOHN2 PETTYJOHN [see p. 646], removed from Virginia (mostly from Northampton County) to what is now Sussex County, Delaware, where they received land south of Indian River and between that river and Assawoman [see map on p. 647] by grant from the Pennsylvania Proprietors, to whom they agreed to pay quit-rents.
Almost from the first, Lord Baltimore's hirelings claimed this territory for him and demanded that quit-rents or taxes be paid to him on pain of arrest, heavy fines, ejection, confiscation of lands or distraint of cattle. For long the settlers defied them, but these penalties were all exacted until finally in despair "the Inhabitants, residing on the South-side of Indian River aforesaid, submitted to the Government of Maryland."26
Before this acquiescence, however, and soon after the sheriff of Somerset County, Maryland, had come with about half-a-dozen men and had taken Peter Waples to their jail by force, Col. Whittington, then sheriff of that county,27 "came to one JOHN PETIJOHNS,† who lived on the South Bank of Indian River, and demanded Taxes of him, which he refusing to pay, they said

---
*This man's descendants doubtless intermarried with the Pettyjohns, for one Molleston Pettyjohn is later found with others of that family and with the Littles in West Virginia and southwestern Pennsylvania.
† The word "Petijohns" is spelled27 "Petijolius" in the published record, an error easily explained by a careless longhand rendition.
---
page 649
---

Whittington distrained some of his Cattle for them, which Things, and some others of the like Nature, so frightened the People to the southward of Indian River, (which were about 8 Families) that they were obliged to submit to the Government of Maryland, and that most of the Lands which were held by them, under Grants from the Proprietors of Pennsylvania, were, after taken up under the Government of Maryland . . . whereupon those People . . . refused to pay any Quit Rents to the Proprieters of Pennsylvania . . ."
JOHN2 PETTYJOHN was executor in 1721 of the estate of his son Thomas3 whose will3b left all his property [except a bay mare to his brother Richard3] to his wife and an only child Isabel4 Pettyjohn.
Among the early warrents of land granted in Broadkill Hundred were those issued in 1715 to the Pettyjohn family, including one for 540 acres to JOHN2, which was part of the 1200-acre "Bundick Tract."7 This Pettyjohn family was early and long associated with the Church of St. John the Baptists which "stood about the center of the county in the forest of Sussex," being in Broadkill Hundred "at the fording place of Long Bridge Branch." This was fouteen miles directly west of Lewes, was under the care of St. Peter's Church of that place, and was served by the Reverend William Becket, who preached at these two chuirches and two others, which were so scattered that he could hold service only about once a month in each. The roads were good and people habitually came seven or eight and some even ten or twelve miles to worship. The people of St. John's raised, on March 27, 1728, a frame of white oak, about thirty by forty feet, for a church home, which was finished with cypress and built gradually by voluntary contributions of work. This building was used for religious purposes until 1800 when it became a schoolhouse. The congregation became defunct, was later revived and finally erected a new building about 1877 in Milton near the location of the old structure and succeeded to the name held by the earlier organization. 5, 6
The land holdings of JOHN2 PETTYJOHN were considerable for, besides those already mentioned, the few records whch have come down to us show him to have bought 450 acres near Long Love Cove on August 3, 1715, and to have deeded for £20, 340 acres on "Love Long Branch" to his son, John3, on August 4, 1715. He also deeded 100 acres near the head of Long Brifge Branch to his son Richard3 in May, 1724, bought 100 acres on the south side of Bright Beaver Dam in that year, made a gift of 100 acres at the head of Long Bridge Branch to his granddaughter Isabel4 [daughter of Thomas3, deceased] "for natural affection and fatherly love" on May 7, 1724, and

---
page 650
---

gave a similar amount at the same place to his son Richard3 for the same consideration at the same time.3t
In his will dated October 26, 1733, and proved November 15, following,3b JOHN2 called himself "yeoman" and spoke of being "sick in body." Presumeably his wife died previously for she was not mentioned in that document. He left one shilling each to three grandchildren, viz.: Rachel Reed, George Dodd and Isabel4 Pettyjohn [each of whom had at least one parent deceased], and divided the residue of his estate equally among his sons James3, John3, William3 and Richard3, of whom the last two mentioned were made executors.3b
The children of JOHN2 PETTYJOHN and (----), his wife, were
I. James3,* b. doubtless in Virginia, prob. about 1687; d. between November 11, 1748, date of will, and January 4, 1752, when it was probated;3d m. Hannah (----), who survived him and was executor of his estate. His children were3d (I) *James4, d. between May 3, 1794, and December 3, 1801; m.3e Esther (----); (2*†) Samuel4, m. before May. 1759, Anne, probably daughter or widow of John Wright;3z (3)†Thomas4; (4) Jacob4; (5) Abraham4, d. before February 2, 1761; m. before November 5, 1754, Elizabeth, granddaughter and heir of John Marsh, deceased;3f (6) Naomi4; (7) Major4 (Marjorie?), daughter; (8) Lydia4; (9) Sarah4, m. before 1748, (----) Nixon; (10) Elizabeth4, m. before 1748, (----) Abel; (11) Abigail4, m. before 1748, (----) Bignall.
II. John3, b. about 1689 in Virginia;4 d. after4 May 16, 1759; m. in Sussex County, Delaware, May 15, 1712, Sarah Dod,3z prob. daughter of George and Sarah. He likely had John4‡ and3u Thomas4, who were certainly brothers, and either this John4 or his cousin John4 (Richard3, John3, James1) must have been the John senior who went to Pennsylvania and West Virginia.
III. WILLIAM3, see following.

---
* James3 Pettyjohn (JOHN2) gave to his two sons, James4 and Samuel4, in his will of 1748, "the land I live on, equally"3d and James4, apparently the elder, would likely have received the house itself. Transfers are extant showing that James4 on January 10, 1794, deeded to his son Ebenezer5 land which had been taken up by James3, their father and grandfather respectively, on September 15, 17183e. This all lends color to the probability that it was Ebenezer4 to whom reference was made as follows:
"In the old Ebenezer Pettyjohn house, east from Georgetown, which was taken down in 1878, were found some rare and curious coins bearing date from 1698 to 1723, the latter being probably the time when the building was erected, as the money was securely fastened in a mortise in the frame of the old building."7 If this surmise is true, this house was undoubtedly built by James3 Pettyjohn in the time and neighborhood and doubtless with the help of our William3, his brother.

† In July, 1764, a business combination was formed between Benjamin Mifflin, of Philadelphia, and John Jones to purchase marsh lands in Sussex County, Delaware, and to create a drainage system thereon. The following November they bought7 of Samuel Pettyjohn [doubtless Samuel4, James3, John2] "Ye Great Savannah" which had been warranted to him in 1760, and another large tract which lay on both sides of the "Great Drain," and purchased also 300 acres adjoining it from Thomas Pettyjohn, who was doubtless Thomas4, brother of this Samuel4. The latter executed a deed May 6, 1759 which was witnessed by ABSALOM3 LITTLE.3K

‡ See note under children of WILLIAM3 PETTYJOHN, page 65.
---
page 651
---
IV. Richard3, b. doubtless in Delaware, perahps 1693, d. 1750-1; m. Hannah (----) and had3c (1) John4, living November 6, 17643u [either this man or his cousin John4 above must have gone to the west]; (2) Margaret4; (3) Isabel4; (4) Sarah4, wife of David Firman; (5) Elizabeth4; (6) Ann4.
V. Thomas3, b. doubtless in Delaware; d. between April 9, 1721, date of will, and July 21, following. Left3a wife [unnamed] and daughter Isabel4, who was named in the will of her grandfather John2.
VI. daughter, d. prob. before father; m. (----) Reed, and had a daughter Rachel,3b named in grandfather's will.
VII. daughter, d. prob. before father; m. (----) Dodd, and had son George,3b named in grandfather's will.
WILLIAM3 PETTYJOHN (John2, James1), born probably about 1691 either in Virginia or in Sussex County, Delaware, died at the latter place between3f January 15, 1749, the date of his will, and February 2, following, when it was probated. There is a tradition in the family that he married into the Claypoole family, which in turn was related to Oliver Cromwell throught he marriage of the latter's favorite daughter Elizabeth to John Claypoole of England, brother of James1 and Norton1 Claypoole, who were emigrants to America. The story is that it was because of this relationship that the name "Betty" or "Betsey" recurs so frequently among the descendants. Norton1 Claypoole settled in Sussex County, Delaware, as a neighbor to the Pettyjohn family and by his second wife, Rachel, had three children, including Elizabeth2 born9 May 16, 1687, who would have been the right age to marry WILLIAM3 PETTYJOHN but evidence that she did so has not been obtained. Perhaps some reader can give some competent testimony either proving or disproving this tale.
Various land transfers show that WILLIAM3 and his brothers, as well as their father before them, dealt heavily in land. WILLIAM3 and his brother James3 bought on August 5, 1712, 400 acres "on the south side of Long Love Branch" "at the head of Angola Neck" and the latter deeded on August 5, 1718, his share of this land to the former.3v These brothers held in common another tract of 150 acres which their father had given them and James3, in this case also, made over his portion to WILLIAM3 who sold the tract on Novermber 9, 1721, to Robert Butcher for £50.3v
WILLIAM3 bought, on February 1, 1717-8, 100 acres from Richard Paynter which he sold on August 7, 1735, to Robert and John Homes for £70.3v He bought 500 acres "in Sussex Co.," in May, 17, 1724, of which he sold one half in August, 1748, for £85.3s He and his brother Richard3, as executors of the estate of their father, JOHN2, sold to Hugh Virdin 100 acres on February 1, 1745, for £40.3v

---
page 652
---
The large land holdings of WILLIAM3 are further evidenced by a sale made by his son William4 on May 7, 1755, for £35, of a 110- acre portion of a tract in Braodkill forest known as "Billeys Savannah,"* which had been willed to him by his father;3w and by another sale on May 14, 1756, for £35, of a 60-acre tract received from his father,3w and still another on May 5, 1761, of land in Broadkill Hundred which was part of 400 acres granted3w to his father, WILLIAM3. A surprising comparison between the values of land and stock at this early period is seen in the fact that John3, in August, 1718, traded 340 acres of land to George Dodd for two cows and calves.3t
Both WILLIAM3 and his brother James3 were overseers of highways in 1735, the former being assigned to the road "from Bracey's Branch to the 2 mile post on Souther's run."7
WILLIAM3, in his will dated January 15, 1749, called himself "yeoman," and "sick and weak," gave to his son William4 "the plantation I live on called 'Whatsons' containing 200 acres, a tract called 'Gum's Land' of 145 acres, another in Broadkill Hundred of 300 acres, as well as his negro 'Paris'". He gave to daughters Sarah4 and †Levinah4 [evidently unmarried] each a cow, a mare and thirty pounds of feathers. To ABSALOM3 LITTLE and ESTHER his wife, one shilling; to the testator's three grandchildren, Mary, Betty and William Light, children of daughter Agatha Light, eighteen months' schooling, with board, which was to be furnished by his son William4; to Agatha Light, one shilling; to daughter Mary Donavan "the use of my negro 'Nan' until the said negro shall have three children, which said three children when born shall be given to my three grandchildren, William Pettyjohn, BETTY and Esther" [the last two undoubtedly the daughters of ESTHER (PETTYJOHN) LITTLE]; residue to son William4 who was made executor.3f Presumably his wife's death preceded his, since his will fails to mention her.

---
* A treeless plain.
† Levinah (Pettyjohn) Little who was left a widow is undoubtedly is the "Vina" and "Levinia" Little who was taxed in Springhill Township, Fayette County, Pennsylvania, in 1785, and was the head of a family8 there in 1790. The accumulated evidence that her sister ESTHER4 and family, her brother William4 Pettyjohn and family, with various cousins, and a goodly number of the Littles and Coreys, are found near together in Pennsylvania and West Virginia, shows a heavy migration of friends and relatives. [See p. 655.]

Other students of the Pettyjohn and intermarrying families may be interested in the fact that the Stockley or Stokely family were resident in both Virginia and Delaware in the vicinities where the Pettyjohns lived, that in the latter state the Little and Stockley families intermarried; and that even in southwestern Pennsylvania and northern West Virginia there was living near our Littles and Pettyjohns a man named Stockley Little, sometimes called P. Stockley Little, who very likely had common origin with them and even may have borne the name Pettyjohn, which would explain the initial "P." He may have been the son of Temperance Stockley, daughter of Benjamin Stockley, of Sussex County, Delaware, who was mentioned in her father's will, dated November 30, 1762, as "my well beloved daughter, Temperance Little."14
---
page 653
---
The children* of WILLIAM3 PETTYJOHN and his wife [perhaps Elizabeth Claypoole?], all born in Sussex County, but in unknown order. were
I. William4,* only [living] son and executor of his father's will. He deeded in 1755, 1756 and 1761, land which came to him from his father.3w He m. and had3f before 1749 a son William5 who was named in the will of William3.
II.ESTHER4, b. prob. about 1720; d. doubtless after 1790 in German or Luzerne Township, Fayette County, Pennsylvania [see maps on pp. 263, 539], since one of the name was8 taxed there in 1786 and was the head of a family in 1790. She m.,3f doubtless in Sussex County, Delaware, before January 15, 1749, and prob. as early as 1740-5,

---
* The descendants in West Virginia of WILLIAM3 PETTYJOHN displayed quite uniformly, as the many years passed, two strongly-marked traits, viz.: very firm religious principles and equally firm intolerance of slavery. These men stood, of course, in the relation of brother, cousin and nephews of varying degrees, to our ESTHER (PETTYJOHN) LITTLE, and the tendency they developed would doubtless have shown similarly in her own character and teachings. Their abolitionist principles, as a family group, were so strong that published histories of the localities in which these men lived comment upon it. The religious phase is stressed by the recorded affiliation of the adults with established churches shortly after their removal to Ohio, the baptism of their various children, and especially by the published autobiography24 of Jonas5 Pettyjohn and the story of his service as a missionary among the Indians of Minnesota. Incidently he tells24 a vivid tale of the escape of himself and family from the Sioux massacre in 1862. Study covering a period of years, fortified by the purchase of abstracts of hundreds of documents, has shown conclusively that it must have been this William4 and his son William5 who were removed to the west with their sister and aunt. repectively, our ESTHER (PETTYJOHN) LITTLE and her family; who acquired large tracts of land in southwestern Pennsylvania and West Virginia, adjacent to that acquired by members of the Little family; who were the progenitors of a group of Pettyjohn [later spelled Pettijohn] families resident in the territory now called Monongalia, Preston, Harrison, Taylor, Marion and Barbour counties of West Virginia [See map on p. 535]; and who, in their own day and in records now extant, were identified as "William Sr" and "William Jr." There were also in that locality at that early date "John Sr" and "John Jr," of whom tradition, which has come down to living descendants,22 says that "John Sr" was a cousin of some degree to William4 Sr and that John Jr was son to the former man. The compiler has not identifies this John Sr, who is wholly collateral to our interest, but has found two men, both first cousins of William4 above, either one of whom could have been the John Sr of Pennsylvania and West Virginia. These two are [x] John4, only son of Richard3 (JOHN2, JAMES1) and Hannah, who was named in the will23 of Richard3, dated March 14, 1751, and who on November 6, 1764, as the "son of Hannah," deeded land23 which had been granted to his father; and [y] John4, who was in all probability son of John3 and Sarah (Dod) Pettyjohn [married May 15, 1712, in Sussex County, Delaware].23 This last named John4 was in 1765, in Delaware, called "John Jr," when he deeded land which he had obtained by barter from his brother Thomas4. The reasons for insertion here of these details are that when a John4 Jr of Delaware went west he would automatically become "Sr" in the new locality and, in turn, would call his son John5 "Jr" [of West Virginia]; and that this John5 married23 his second cousin, Deborah4 Little, a daughter of our ABSALOM3 and ESTHER (PETTYJOHN) LITTLE [see Little, p. 559].
The names of the children of John5 and Deborah (Little) Pettyjohn were22,24

(1). James6, who d. about 1825, aged about 64; m., November 24, 1795, Frances Wisbey.

(2). Richard6, who m. March 12, 1802, Mary6 Pettyjohn (William5, William4, WILLIAM3, JOHN2, JAMES1), his third cousin on the Pettyjohn side and his second cousin on the Little side.

(3). Thomas6, b. December 14, 1780; d. August 12, 1824; m. August 30, 1802, Ruth6 Pettyjohn [sister of Mary6 above and of the same relation to her husband as was Mary6 to Richard6].

(4). John6, who d. 1851; m. a widow with one son, David, who took the name "Pettijohn" and later m. Hannah7, youngest daughter of Thomas6 and Ruth (Pettyjohn) Pettyjohn above.

(5). Hester6.

(6). Comfort6.

(7). Edward6.

These two families, Pettyjohn and Little, present more frequent intermarriages and a more complicated variety of relationship than is often found even in the early days. A John4 or 5 Pettyjohn witnessed the deed15 dated March 1, 1776, whereby ABSALOM3 LITTLE and his wife ESTHER, transferred their home property near Heistersburg, Pennsylvania [see maps on pp. 263, 539], to their son, Absalom4 Little. Other miscellaneous items pertaining to the name John Pettyjohn include the accrediting of Big Whitely District [Pennsylvania] in 1782 with a John, as a private in the Revolution; as paying taxes19,20 in Springhill Township, now Fayette County, Pennsylvania, in 1773 [then evidently married]; as paying taxes in 1783 on a fourteen-acre clearing, one horse and two cows; and as paying taxes again in 1785 and 1786. One of the name was authorized in 1785 and 1792 to run a ferry across Tygerts Valley River from his own land on one side to his land on the other bank.20 John5 and Deborah (Little) Pettyjohn had five sons and two daughters, of whom the sons all married and removed to Ohio about 1805-10, settling in Adams, Brown and Highland Counties. Their father and mother went with them.22,24,25

To revert to William4 "Sr", brother of our ESTHER4, no direct documetnary evidence has been obtained showing his removal to the west, but by exhastive study, by exclusion and by a preponderance of circumstantial evidence, the compiler feels justified in stating that he did so, and without furthur argument will discuss him from that basis of belief. He married,3f before 1749, Ruth (---), who survived him. His father, William3, in his will of January 15, 1749, made bequests to his son William4 and [a] a grandson William5, who may have died soon, for family records gathered from various sources22,24 supply the later birth-date of November 3, 1751, for [b] William5, who died April 27, 1796 [before his father], and who married about 1780, Constance4 Little (Abraham3, ANTHONY2, JOHN1); Constance married, secondly,24,25 on July 28, 1800, Daniel Jobes and removed to Ohio, as did most of her children. The children of William5 and Constance (Little) Pettyjohn were20,22,24,25

(1). Amos6, m., October 10, 1801, Sussanna Tucker.

(2). Mary6, m., March 12, 1802, Richard6 Pettyjohn (John5, John4) [vide supra].

(3). Ruth6, b. June 24, 1784, Monongalia County, W. Va.; d. April 11, 1848, Schuyler County, Ill.; m., August 30, 1802, Thomas6 Pettyjohn (John5, John4) [vide supra].

(4). John6.

(5). William6.

(6). Abraham6 Pettyjohn, b. February 11, 1788; d. October 20, 1852; m. May 2, 1811, Jane Sloan.

(7). Isaac6, who served in the War of 1812 as a substitute for John Moore and received a wound from which he died.

The other children of William4, as shown by his will, were [c] John5, died between November, 1814, and April 25, 1815, in Adams County, Ohio, leaving his wife, Sarah, survuving him; [d] a daughter (---) who married [probably William] Poor and had at least a son, John Poor; she died probably before August, 1799; and [e] Mary5, born about 1757-8; died March 20, 1830, in her 73rd year; married first (---) Powers, and married secondly December 29, 1789, Maj. William Haymond. This William4 Pettyjohn made his will on11 August 16, 1799, and it was probated in October of that year. It was witnessed by a Thomas Little, and made a bequest to a David Little, both of whom were probably relatives. He left a widow, Ruth [vide supra] who has been reported25 as having married secondly on March 22, 1803 in Monongalia County, a James Little, but the lately published marriage bonds of that county, under date of March 21, 1803 record the impending marriage of James Little to Ruth Pettyjohn who is there called "widow of John W. Pettyjohn."28

Miscellaneous items pertaining to the name "William Pettyjohn" include [a] the survey, on July 1, 1772, of a sixty-five-acre land grant17 then in Bedford County, Pennsylvania; [b] the payment of £75 for three hundred acres of land on the west side of the Monongahela River, south of and adjoining Big Whitely Creek [see map on p. 537]. ABSALOM3 LITTLE or his son of the same name witnessed this deed. William Pettyjohn still lived on this tract in April, 1782, when he sold a part of it, the deed16 showing his name spelled in three different ways, --Pettyjohn, Petigone and Pedigone; [c] the purchase18 on October 23, 1782, by a William Pettyjohn, "of Monongahela county, Virginia," for £35, from Greenberry Cheney of Prince George County, Maryland, of a tract called "Grassy Run," lying on the Cheat River just north of the present Pennsylvania - West Virginia line. [see map on p. 263] One of this name, though spelled "Pettygam," was taxed19 in Menallen township, Fayette County, in 1783, and another of the name20 was a member of the House of Delegates of Virginia in 1785-6. A William and an Amos Pettyjohn were privates in Captain William Haymond's Monongalia Revolutionary Company12,20 and various other items are found pertaining to this name.20

Settlements in the early days followed the water courses for ease of transportation. Ownership of land in West Virginia by various members of the Pettyjohn family is found,25 in addition to localities named above, on or near the Monongahela River, Tigerts Valley River, Glady Creek [near the southern boundary of present Marion County], Prickett's Creek, Simpsons Creek, Laurel Run and on the head waters of the Youghiogheny River [see map on p. 535].
---
page 654
---

ABSALOM3 LITTLE, who was resident there until after10a August 2, 1765, but had removed before September, 1772, to what was then Bedford County,10b now Fayette County, Pennsylvania [see Little p. 548].
III.Agatha4, m. (---) Light, and had3f Mary, Betty and William before 1749.
IV. Mary4, m. before 1749, (---) Donavan.3f

---
page 655
---
V. Sarah4.
VI. Levinah4, [see note p. 652] b. (---); d. undoubtedly in Fayette County, Pennsylvania, and after8 1790; m. after3f January 15, 1749, and before February 29, 1752, Amos3 Little10c (ANTHONY2,JOHN1), who d. between the latter date and April 1, following [see Little, p. 547].

---
References
---
1. Nothampton County, Va., "Deeds & Wills" No. 7, 1657-66, folio 92; William and Mary Quarterly, 1909-10,XVIII, 179.
2. Rodney's Diary and Other Delaware Records, C.H.B. Turner, 1911, p. 54.
3. Consultation of Wills, Deeds and Vital Records in Sussex County, Del., by Rev. J. B. Turner, 1923, incorporating abstracts of: (a) Wills,, Liber A, No 1, p. 152; (b) Wills, Liber A, No 1, p. 263; (c) Wills, Liber A, No 1, p. 429; (d) Wills, Liber B, No 2, p. 23; (e) Wills, Liber F, No 6, p. 55; Deeds Liber X, No 22, p. 159; (f) Wills, Liber A, No 1, p. 403; (r) Deeds, Liber A, No 1, pp. 274, 276, 299; Deeds, Liber B, No 2, p. 224; Deeds, Liber F, No 6, p. 96; (s) Deeds, Liber A, No 1, p. 275; Deeds, Liber H, No 8, p. 190; (t) Deeds, Liber F, No 6, p. 197; Deeds, Liber H, No 8, pp. 189, 235; (u) Deeds, Liber K, No 10, p. 140; (v) Deeds, Liber A, No 1, pp. 233, 290; Deeds, Liber F, No 6, p. 4; Deeds, Liber G, No 7, p. 132; Deeds, Liber H, No 8, p.105; (w) Deeds, Liber K, No 10, p. 152; (x) Deeds, Liber I, No 9, pp. 233, 348; (y) Deeds, Liber I, No 9, p. 303; Deeds, Liber J, No 9, p. 63; (z) Deeds, Liber D, No 4, p. 101.
4. Maryland Archives, XXXI, pp. 366-7.
5. History of Delaware, H. C. Conrad, 1908, II, 714-5, 729.
6. Some Records of Sussex County, Del., C. H. B. Turner, 1909, pp. 193, 202, 225-6.
7. History of Delaware, J. F. Scharf, 1888, II, 1204, 1207, 1237-40, 1268.
8. Pennsylvania Census for 1790, pp. 107-9; Pennsylvania Archives, Series 3, XXII, 566, 625.
9. Some Records of Sussex County, Del., C. H. B. Turner, 1909, pp. 100, 111, 115, 122-3, 133, 137, 147.
10. (a) Sussex County, Del., Deeds, K, 10, p. 179; (b) Ibid., L, 11, p. 284; (c) Ibid., Wills, B, 2, p. 27.
11. Monongalia County, W. Va., Will Book, No 1, 313.
12. Virginia Militia in the Revolution, p. 216.
13. Colonial Churches in the Original Colony of Virginia, Southern Churchman, Co., 1908, pp. 98-111; Virginia Magazine, XIII, pp. 315-7.
14. Sussex County, Del., Wills, Liber B, 2, 299.
14a. Old Churches of Virginia, Bishop Meade, 1889, I, 252-8, 261-4; Eastern Shore of Virginia in the Seventeenth Century, J. C. Wise, 1911, pp. 84, 263-4, 276-8, 356-9; History of the Huguenot Emigration to America, C. W. Baird, 1885, II, 175-6; History of Marblehead, Mass., S. Roads, 1880, p. 368.
15. Westmoreland County, Pa., Deeds, Book A, pt. 2, p. 166.
15a. History of Lewes, Del., P. Pusey, 1903, pp. 10-20.
16. Washington County, Pa., Deeds, I, Book A, pp. 48-50.
17. Fayette County, Pa., Index to Plans; Ibid., Original Warrant, File W, 352; Pennsylvania Archives, Ser. 3, XXV, 595.
18. Westmoreland County, Pa., Deeds, Book A, pt. 1, p. 294.
19. Original Tax Lists in Greensburg, Pa.
20. Pennsylvania Archives, Ser. 3, I, 649; XXII, 47, 426, 451, 567, 631; Ser. 6, II, 19,271; Census of 1790 for Virginia, p. 35, 110; Monongalia County, W. Va., Deeds; History of Monongalia County, W. Va., S. T. Wiley, 1883, pp. 82-3, 352; History of Preston County, W. Va., O. F. Morton, 1914, I, 57, 536-8; Genealogical and Personal History of the Upper Monongalia Valley, B. L. Butcher, 1912, II, 528; III, 1256; History of Harrison County, W. Va., H. Haymond, 1910, pp. 26, 39, 45, 155-6; History of Brown County, O, W. H. Beers, 1883, pp. 666, 676; pt. 5, p. 81; Hening's Statutes at Large of Virginia, XII, 83; XIV, 157; Abstracts from the Records of Augusta County, Va., 1912, II, 236; III, 157; Virginia State Library Report, VIII, 349; XIV, 417; Anals of Carnegie Museum, 1902, I, 532; National Genealogical Society Quarterly, XIII, 62, 65-7; XIV, 26-7; Virginia General Assemby Register, p. 330; Statutes at Large of Virginia, XII, 83; XIV, 157.
21. Old Virginia and her Neighbors, John Fiske, 1899, II, 35; Sterling Genealogy, A. M. Sterling, 1909, I, 228-40.
22. Family Records furnished by various descendants, including: Lyle Pettijohn, Blue Earth, Minn., who also lent the book listed as reference No. 24; Mrs. Cleatus Le Duc; William Grant Pettijohn; Mrs. Laura (Pettijohn) McMurtry; Lewis J. Pettijohn; Charles C. Pettijohn; Simeon A. Pettijohn; Orlando P. Pettijohn.
23. Sussex County, Del., Deeds, K, 10-140, 152; D, 4-101; Ibid.; Wills, A, 1-429.
24. Autobiography Family History and Various Reminiscences of the Life of Jonas Pettijohn, written by himself and published in Clay Center, Kans., by the Dispatch Printing House, 1890, pp. 1-8, 100-4. Jonas5 Pettijohn, born in 1813, was the son of Thomas4 and Ruth (Pettijohn) Pettijohn and therefore was descended from WIlliam4 Pettijohn (WILLIAM3, JOHN2, JAMES1) and from John Pettijohn, both called "Senior", of West Virginia.
25. Consultation in 1927 of local records at Morgantown, W. Va., by Mrs. G. R. Vosburgh, incorporating abstracts and copies of: Index of Marriages, A, 1, 5, 6, 8; Will Book I, 313; Ciruit Court Order Book I, 108; County Court Order Book II, 8; District Court Book I, 460; Deed Book A, 155, 157, 159-60; B, 289; D, 321-2, 380, 388; II, 332; III, 252, 330, 422, 452; V, 305, 556-7, 362; VI, 249; VII, 418.
26. Pennsylvania Archives, Ser. 2, XVI, 574-5, 663-675; History of Delaware, J. T. Scharf, 1888; I, 108-124; Maryland Archives, XXXI, 362-90.
27. Pennsylvania Archives, Ser. 2, XVI, 669, 674.
28. D. A. R. Magazine, LXII, 311.

To the top